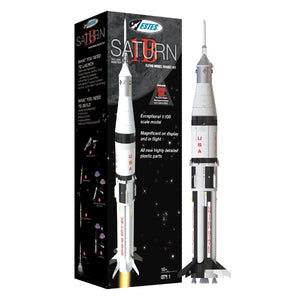 Estes Rockets Saturn 1B
Free
Shipping
on Orders of $135 or more!
---
---
The Estes Rockets Saturn 1B is a must-have for your collection
Recommended for Master Skill Levels
The Saturn 1B measures 26.8 inches tall with a diameter of 2.62 inches
Estimated weigh of 6.9 oz
Recommended 

C11-3, D12-3, E12-4, E12-6 engines

The projected max altitude is 1000-feet
Kit features textured body wraps and unqiuely detailed parts 
The Estes Saturn 1B SA-206 is a 1:100 scale recreation of the Saturn 1B and Apollo spacecraft stack as it appeared in 1973 for the launch of the first Skylab crew. This master skill level kit measures 26.8 inches tall with a diamter of 2.62 inches. When launched on recommended engines, this stunning replica can achieve flight heights of 1000-feet. This Estes kit is incredibly realistic with textured body wraps, injection molded parts and other plastic formed parts to add exteme detail. Features a 2-piece recovery under dual parachutes. Add to your collection or launch into the sky. 
Products Containing Wood | CA Prop 65

Boyce Aerospace Hobbies recommends hobbyists under the age of 13 be supervised by an adult at all times. 
---
We Also Recommend