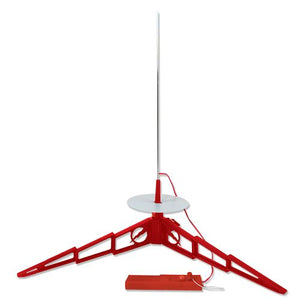 Estes Rockets Porta-Pad II Launch Pad & Electron Beam Lanuch Contoller Combo
Free
Shipping
on Orders of $135 or more!
---
---
The Estes Rockets Porta-Pad II Launch Pad & Electron Beam Launch Controller is a perfect combo for launching rockets powered by 

mini, standard (A-C) and D engines.



Your launch controller is powered by 4 AA alkaline batteries (not included) & includes 17' 

of heavy-duty cable

Launch Pad includes: (two-piece launch rod, deflector plate, launch platform assembly and launch rod safety cap so you're ready to fly
Whether you're looking to launch single or two-cluster engine powered rockets, the Estes Rockets Pro Series II Launch Controller is perfect. Powered by 6 C alkaline batteries (not included) and boasts multiple power source options. Plus, the 30' of heavy-duty cable makes this the ultimate launch controller for Pro Series II or mid-engine rockets.
Boyce Aerospace Hobbies recommends hobbyists under the age of 13 be supervised by an adult at all times. 
---
We Also Recommend