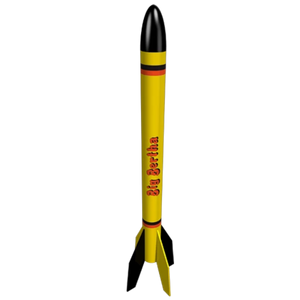 Estes Rockets Big Bertha Model Rocket Kit
Free
Shipping
on Orders of $135 or more!
---
---
Big Bertha is an Estes Rockets favorite
This popular kit is recommended for Intermediate Skill Level 2 (formally Beginner Skill Level 1)
The large kit measures 24 inches in length with a diameter of 1.64 inches
Big Bertha weighs about 2.5 oz when assembled
Recommended B4-2, B4-4, B6-2, B6-4 (first launch), C6-5 engines
Projected max altitude of 500'
Kit includes laser cut wood fins, Estes body tubes, molded plastic nose cone, waterslide decals and an 18" parachute
If you've never heard about Estes' Big Bertha, add this kit to your cart as soon as possible! The 24" kit is known for being a modelers' first big build and doesn't disappoint at launches with max altitudes projected at 500'. Big Bertha is recommended for hobbyists with intermediate skill levels and includes everything you need to build.
Boyce Aerospace Hobbies recommends hobbyists under the age of 13 be supervised by an adult at all times. 
---
We Also Recommend