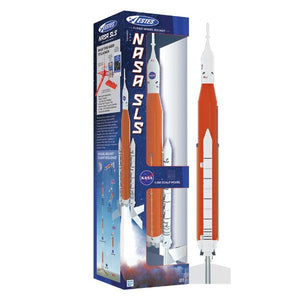 Estes Rockets NASA SLS Rocket Kit
Free
Shipping
on Orders of $135 or more!
---
---
The Estes Rockets NASA SLS Rocket Kit is a 1:200 scale

Detailed replica of the original NASA SLS that stood taller than the Statue of Liberty

Completed kit measures 19.4" with a diamter of 1.64"

Estimated weigh of 4.2 oz
Recommended C5-3 or C6-3 engines
The projected max altitude is 350-feet
Kit is intended for beginners and takes only 15 minutes to build. 
Beginners and advanced modelers agree - the Estes Rockets NASA SLS Rocket Kit is an excellent choice for your next project. The 1:200 scale kit measures 19.4" and weighs a mere 4.2 oz. This detailed replica takes about 15 minutes to build and can reach heights of 350-feet on recomended engines. Once this kit reaches its maximum altitude the NASA SLS model rocket floats back to earth with its 18-inch paracute. Don't want to launch your model? Its included custom clear fins double as a display stand. 
Boyce Aerospace Hobbies recommends hobbyists under the age of 13 be supervised by an adult at all times. 
---
We Also Recommend