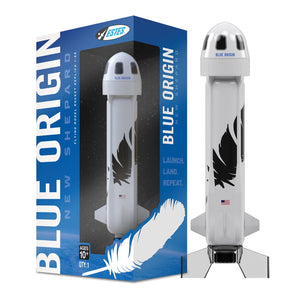 Estes Rockets Blue Origin New Shepard Rocket Kit
Free
Shipping
on Orders of $135 or more!
---
---
The Estes Rockets Blue Origin was designed and built to mimic the real-life rocket!

Recommended for Skill Beginner Level
When assembled, the New Shepard kit measures 1.0.34inches long and 1.78 inches in diameter
The kit has an estimated weight of 4 oz
Projected max altitude of 400 feet
Recommended C5-3 or C6-3 engines
In 1961 Alan Shepard became the first American in space, a decade later, he walked on the moon. Mr. Shepard carved the frontiers of space exploration so that we could pave the path. It's with that legacy in mind that the New Shepard was created. The Estes New Shepard brings the feeling of exploration and the excitement of a launch. The Estes New Shepard is a 1/66th scale model of the Blue Origin New Shepard launch vehicle. It flies to altitude on a C5-3 or C6-3 engine and is capable of as much as 400 ft. After deploying the capsule, it falls through the atmosphere under a large parachute to gently touch down.
Boyce Aerospace Hobbies recommend hobbyists under the age of 13 be supervised by an adult at all times.
---
We Also Recommend