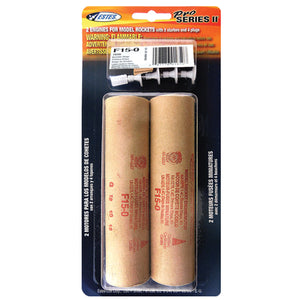 Estes Rockets F15-0 Engines
Free
Shipping
on Orders of $135 or more!
---
---
Launch your next model rocket on an Estes Rockets F15-0 Engine
A powerful engine to send your rocket sky high
Each package includes 2 engines, 2 starters and 4 plugs
Total Impulse: 49.61 N-sec
Max Thrust: 25.26 Newtons
Can only be shipped via UPS Ground/Hazmat Delivery. No international shipping is allowed.
Stock up and buy multiples at once to get the most out of the mandatory $37 Hazmat Fee
These Engines are not eligible for free shipping due to hazmat transportation
The Estes Rockets F15-0 is one powerful, engine that could, to send your newly built rocket soaring to altitude. The package includes 2 engines, 2 starters and 4 starter plugs. Max thrust is 25.26 Newtons. And, these engines only ship UPS Ground w/Hazmat Fee & delivery. 
Boyce Aerospace Hobbies recommends hobbyists under the age of 13 be supervised by an adult at all times. 
---
We Also Recommend