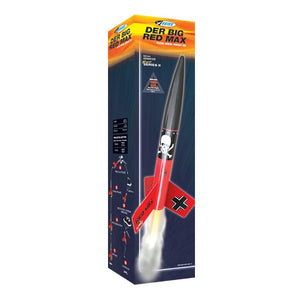 Estes Rockets Der Big Red Max
Free
Shipping
on Orders of $135 or more!
---
---
Meet the newest member of the Estes Red Max family - the Estes Rockets Der Big Red Max
The kit measures 29.9 inches tall with a diameter of 3 inches
Estimated weight of 14.5 oz
Recommended Engines: E16-4 (first launch) F15-4
The projected max altitude is 1100-feet
Kit includes laser cut wood fins and an 18" parachute  

Assembly Instructions
New to the Red Max family, this 3 inch diameter version os guaranteed to please. This fun to build kit is also easy to complete thanks to thru-the-wall fin design; plus this gives the rocket extra strength for many flights. When launched on recommended engines, this kit reaches up to 1100-feet! And, Der Big Red Max floats back down to earth on its 18" skull & bone parachute. 
Boyce Aerospace Hobbies recommends hobbyists under the age of 13 be supervised by an adult at all times. 
---
We Also Recommend